Group Classes

ABC Music Academy in Westminster is proud to offer group music classes for children. Your child can join the Rock Ensemble class or group piano lessons to interact with peers and caregivers and to develop the socioemotional benefits associated with music classes.
We have outlined our different music class options below. Feel free to give us a call with any questions about our group music classes or private music lesson options!
Rock Ensemble
At ABC Music Academy, we offer Rock Ensemble group music classes that our students rave about. In this music class, we work on teamwork, coordination, leadership, and practice for live performances. Lori guides her students through music processes and the group dives into the grit of how to come together as a group to produce that final piece.
Rock Ensemble provides the foundation for students that are hoping to move forward with group performances, such as marching band, rock bands, etc. ABC Music Academy takes pride in this music class for kids and the positive and lasting skill set it creates for our students.
Group Piano
Unique and innovative, group piano classes offer students and their parents or caregivers the opportunity to learn and create music together. Through a variety of fun games, interactive music-reading lessons, and exciting rhythm activities, your child will learn to love piano and the techniques. The time you get to spend with your child during these music lessons is invaluable, as it gives you the opportunity to truly build and create something together while learning a lifelong skill.
The ABC Music Academy team utilizes multiple learning philosophies to ensure that your child retains the music lessons well. Through a unique and integrated learning approach, your child will not only become well-acquainted with proper piano techniques and theory, but also passionate about the music itself.
During group piano lessons, your child will learn: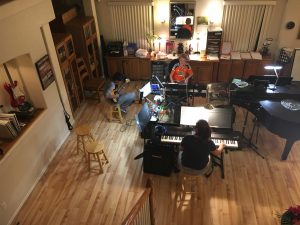 Music theory
Songwriting
Ear training
Memorization
Performance skills
Comprehension
Sight and note reading
Chords
Improvisation
A variety of different genres
To be eligible for this music class, you need to have access to a keyboard or piano for practice at home.
Want to know more about ABC Music Academy's group lessons? Call today. Our friendly and experienced music teachers would be more than happy to speak with you.
The Benefits of Group Music Classes
When you sign your child up for group music classes, they benefit not only from the music instruction but also from the peer interaction. During a group music lesson, your child will:
Develop confidence playing in front of other people.
Feel less pressure than a one-on-one music class.
Practice valuable teamwork skills in a creative, out-of-school context.
Participate in fun, interactive games and activities.
Learn an instrument!
Additionally, our unique group piano music classes with caregivers give you and your child a chance to develop a truly meaningful bond. When you create and learn together, you come closer together.
Sign up today for group music classes in Westminster at ABC Music Academy! We're excited to meet you and to answer any questions you might have!