Private Lessons
For children who thrive in a one-on-one learning environment, ABC Music Academy proudly offers private music lessons. The talented instructors have proudly worked individually with hundreds of children, helping them to foster a love for music and a passion for technique early on in life. ABC Music Academy's  unique methods offer a new, original approach to private music lessons, ensuring retention and enjoyment. With extensive experience and a true passion for music, instructors at ABC Music Academy are wholeheartedly dedicated to giving their students the very best.
To schedule a private music lesson in Westminster, contact ABC Music Academy today!
During private music lessons, your child will learn: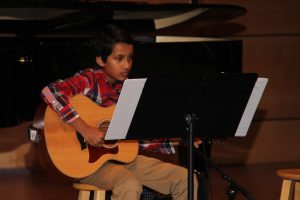 Music theory
Improvisation
Songwriting basics
Chords
Ear training
Sight reading
Note memorization
Comprehension
Performance skills
All private music lessons at ABC Music Academy are tailored to each individual student's learning style and level of progress. Focused on helping students succeed in all of their musical endeavors, each instructor is highly dedicated to assisting studentsthe mastery if an instrument.
ABC Music Academy currently offers private music lessons in the following:
To learn more about private music lessons and what they can do for your child, call ABC Music Academy today. Our friendly and talented team would be glad to answer any questions you may have.
The Benefits of Private Music Lessons
With any music lesson, your child benefits from an incredible enrichment experience. When it comes to private music lessons, however, your child will receive the distinct benefits that learning in an individualizes environment features.
Benefits of private music lessons for your child include:
Instruction based on his or her learning style (tactile, visual, etc.)
Differentiated rigor based on your child's musical skills and interests
A chance to perform songs your child enjoys
Accountability for practice and work ethic
In addition to these unique benefits, music classes encourage holistic development for your child. Music classes for kids:
Improve reading skills, vocabulary, and language
Develop listening skills and abstract thinking
Increase memory and concentration
Build self-discipline and patience
Enhance fine motor skills
Help children to manage stress
Strengthen the part of the brain responsible for math and logic
At ABC Music Academy in Westminster, our music teachers have experience working with children of all different abilities and interests. We take great pride in our one-on-one music lessons and creating a joyful learning environment for each kid.
To schedule a private music lesson for piano, voice, guitar, flute, or ukulele, call ABC Music Academy today in Westminster.